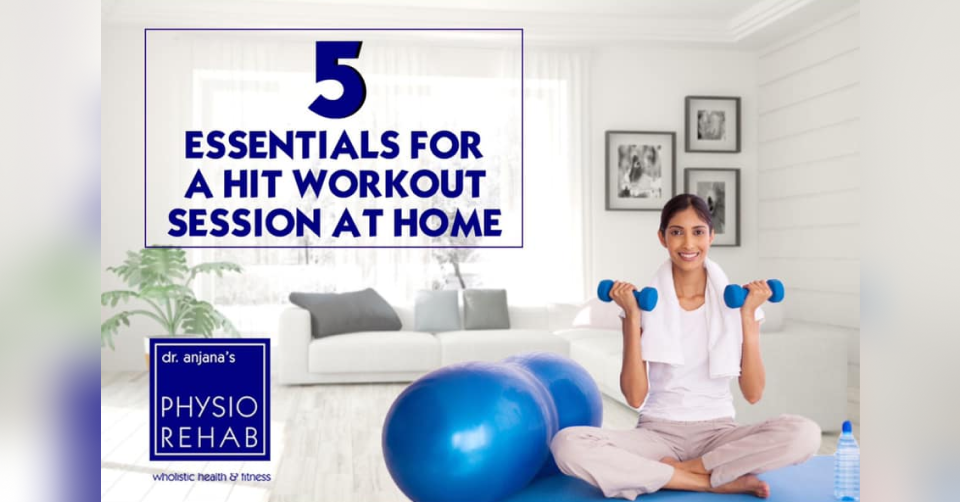 5 essentials for a hit workout session at home
The current global pandemic due to the novel coronavirus has resulted in lockdowns in various parts of the world. We all know about the recent announcement by our honourable Prime Minister to extend the lockdown in India until May 3, 2020 and PhysioRehab completely abides by this.
While we are all trying to get used to the new normal, our fitness routines have gone for a toss. Considering the overall scenario and requests from our patients, here we present the 5 must-have elements you need to equip yourself with to make your home workout session a hit.
Watch what you wear
As comfortable as you feel in your pyjamas in this lockdown, proper workout clothes are a must for your workout session. Well fitted clothes boost your confidence, improve performance, prevent injuries, allowing you to move effortlessly and make you comfortable all at the same time. So, have you organized your exercise wardrobe yet?
Shoes can lead the way
A proper pair of shoes and socks lessen the impact of your step and cushion your foot and knee during heavy cardio sessions. Shoes are extremely important for high energy activities like running, strength training, cardio sessions as they support your ankle during quick direction changes and reduce the impact of a heavy landing.
Music makes the difference
Music not only relieves exercise boredom but also contributes to enhancing your stamina and quality of the workout session. Studies claim that the lyrics and rhythm of motivational music inspires you to exercise longer, harder and better. That's enough reason for you to go and first prepare your own workout playlist to boost your mood and performance.
A Mat that matters
Yoga mats give support to keep a strong hold on the surface while performing exercise postures that may cause you to slip due to sweat or any such reason. It protects and cushions your knees, elbows, feet and hands while exercising wherever required.
Mind full of motivation
Often, people stop exercising when they get bored or if they don't notice immediate results. The only key to break these barriers is to just start doing the exercises and not wait for motivation to happen. After all willpower is also like a muscle, you need to work it regularly, to make it stronger!
So, there you go guys. You have it all in you. All you need to do is just get started. If you haven't done your workout today, then keep this phone aside, play an upbeat music track, put on your shoes and just get started.
For any queries and questions about good workouts, or any aches and pains, give us a shout out. We are happy to assist you in your fitness journey!
Please feel free to dial your nearest PhysioRehab clinic for more information.