Online Consultation is one of the most sought-after vertical offered by PhysioRehab. Online Consultation was introduced with an aim to extend expert physiotherapy services towards patients across the nation and abroad. Currently, PhysioRehab serves patients from Singapore, Dubai, London and Hong Kong apart from various parts of India.
The panel of expert physios at PhysioRehab are available for Online Consultation of all rehab services and treatments covered under In-House Programs.
Right from in-depth online evaluation to utmost confidentiality of the patient to convenience of time and comfort of home, Online Consultations are beneficial for all patients of PhysioRehab.
Dr. Anjana Laungani also educates and consults the general public on key topics related to fitness and health on online platforms like GOQii. Zoom sessions for corporate employees working from home are in high demand. You can access her recent sessions and video blogs by following PhysioRehab on Instagram, YouTube and Facebook. Reach out to us for more information.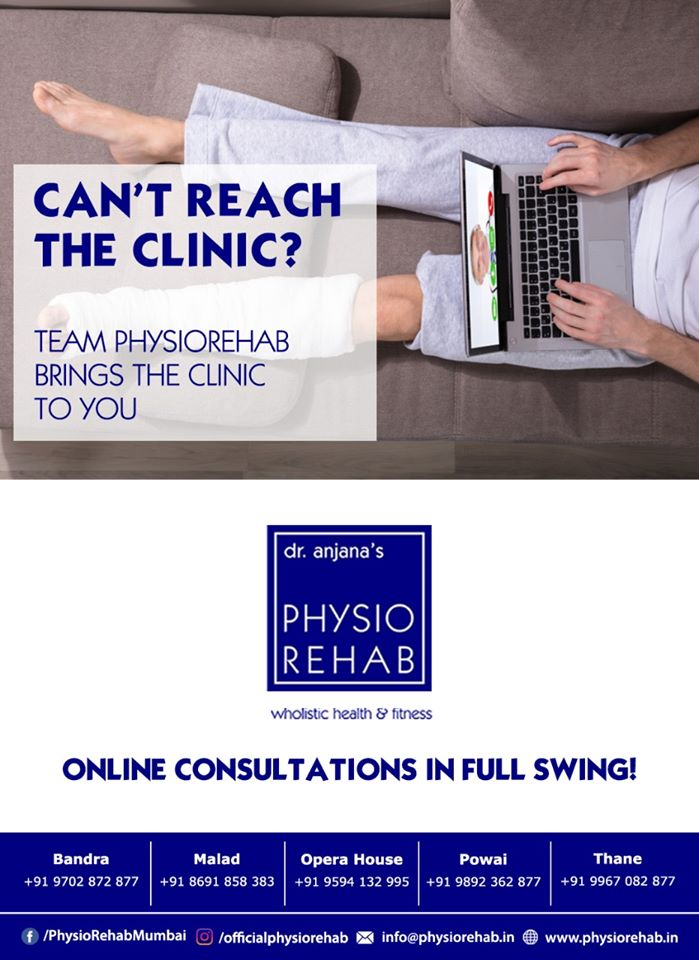 Schedule An Appointment Now!
187 TURNER ROAD,
ZAINAB VILLA 2ND FLOOR,
ABOVE RAYMOND'S,
BANDRA (W),
MUMBAI – 400050.
+91 9702 872 877
022 6671 1500
401,
UNIVERSAL CORPORATE,
CHINCHOLI BUNDER ROAD,
MALAD (W),
MUMBAI – 400064.
+91 8691 858 383
022 2882 2296

1-B,
CUTCH CASTLE,
ABOVE KULIN KUMAR HOLIDAYS,
OPERA HOUSE,
MUMBAI – 400004.
+91 9594 132 995
022 2387 4313

A-WING,
SUPREME BUSINESS PARK,
CORE 3, L1 HIRANANDANI 
GARDENS POWAI,
MUMBAI – 400076.
+91 9892 362 877
022 4971 4313

502,
ORION BUSINESS PARK,
NEXT TO CINEWONDER MALL,
GHODBUNDER ROAD,
THANE (W) – 400607.
+91 9967 082 877
022 3553 1188

VEER DHAWAL,
1st FLOOR, A 104,
L.T RD, NEAR BABHAI NAKA,
BORIVALI WEST,
MUMBAI – 400091.
+91 9136982877
022 3574 1629