Dr. Anjana Laungani
Founder | Medical Director | Consultant Physiotherapist | Rehab Specialist
PhysioRehab is the brainchild of Dr. Anjana. With an exhaustive medical expertise and a vision to establish physical therapy as a vital contributor to the healthcare ecosystem, she established PhysioRehab the centre for wholistic health & fitness.
Dr. Anjana Laungani is a Consultant Physiotherapist & Rehab Specialist with over 30 years of experience in the field of Physical Rehabilitation. She has an extensive experience base of providing holistic treatments to patients of all age groups in various branches of her field.
Her practice is based on the principle of 'Science of Healing, Art of Caring'. She believes in sharing her knowledge and expertise to dynamic and talented physiotherapists through training sessions at PhysioRehab Academy.
She has undergone expert training from several International Physiotherapy Specialists in USA, UK, Germany, Australia, New Zealand and Finland. Dr. Anjana held the post of Head of Dept. of Physiotherapy at the Asian Heart Institute in Mumbai for 7 years and was responsible for establishing a recognised Physiotherapy Unit at the Institute. She was also a Specialist Consultant for 10 years at the Saifee Hospital in Mumbai.
Dr. Shinee Shanbhag
Deputy Medical Director | Clinic Director - Malad & Borivali | Consultant Physiotherapist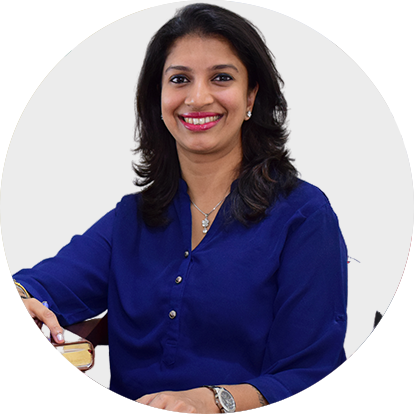 Dr Shinee Shanbhag, with over 19 years of experience, heads PhysioRehab's Malad & and Borivali centre. She has been mentored by Dr. Anjana to evolve as a Specialist Physiotherapist.
Dr Shinee has trained with reputed international physiotherapists with expertise in Stott Pilates, Women's Health, Kinetic Control Concepts and Chronic Pain Management. She has developed training modules for various sports (badminton, swimming, athletes, marathon, squash). As an integral part of PhysioRehab's core team, Dr Shinee has been with PhysioRehab since its inception to its growth into 6 centres across Mumbai.
Dr. Ekta Vyas
Director-Physiorehab Academy | Clinic Director - Opera House | Consultant Physiotherapist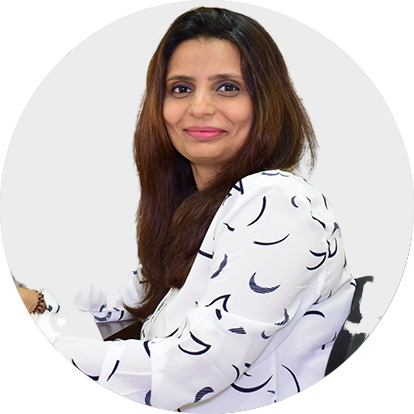 Dr. Ekta Vyas with over 19 years of experience, heads PhysioRehab's Opera House centre. She started her journey with PhysioRehab as an integral part of Dr. Anjana's team in Saifee Hospital.
Her focus expertise is in Pain Management, Women's Health, Under 18 Rehab (children and young adults), Pilates for Rehab and Fitness, Kinetic Control Concepts, Gait Analysis with prescription of Orthotic Insoles. Dr. Ekta is a vital member of PhysioRehab's core team and is actively involved in the future growth of PhysioRehab.
Dr. Niriksha Khasgiwala
Clinic Director - Powai | Consultant Physiotherapist
Dr. Niriksha Khasgiwala with over 12 years of experience is Clinic Director Physiorehab Powai. Dr. Niriksha's area of expertise/interest are Pilates for Rehabilitation, Young children and adolescent training, Scoliosis, Chronic Pain, TMJ / Hip / Vestibular rehabilitation, Sports specific injury prevention and management. Holistic approach is what she believes in and looks at all cases with a 360 degree perspective.
Dr. Niriksha has been instrumental in developing advance rehab protocols at Physiorehab. She started her professional journey with Sir HN hospital and also worked in the muscular dystrophy department at JJ hospital which polished her further as a therapist.
Dr. Niriksha is a core member of Physiorehab who is always willing to work towards best evidence based results.
Mr. Rajesh Mehta
Director - Finance | Marketing | HR | IT
With an extensive experience of more than 2 decades in entrepreneurship, Mr. Rajesh Mehta, is a key contributor to the success of PhysioRehab. Right from its inception to cultivating the brand in enhancing its digital presence to crafting a strategic road map, Mr. Rajesh Mehta has been a part of the entire journey. He plays a key role in Non Clinical Management of all PhysioRehab Clinics.
He envisions to make PhysioRehab accessible at multiple locations and develop the brand. He aims to make PhysioRehab an internationally acclaimed rehab center and the first preferred choice for everything related to rehab and fitness.
Schedule An Appointment Now!
187 TURNER ROAD,
ZAINAB VILLA 2ND FLOOR,
ABOVE RAYMOND'S,
BANDRA (W),
MUMBAI – 400050.
+91 9702 872 877
022 6671 1500
401,
UNIVERSAL CORPORATE,
CHINCHOLI BUNDER ROAD,
MALAD (W),
MUMBAI – 400064.
+91 8691 858 383
022 2882 2296

1-B,
CUTCH CASTLE,
ABOVE KULIN KUMAR HOLIDAYS,
OPERA HOUSE,
MUMBAI – 400004.
+91 9594 132 995
022 2387 4313

A-WING,
SUPREME BUSINESS PARK,
CORE 3, L1 HIRANANDANI GARDENS POWAI,
MUMBAI – 400076.
+91 9892 362 877
022 4971 4313

502,
ORION BUSINESS PARK,
NEXT TO CINEWONDER MALL,
GHODBUNDER ROAD,
THANE (W) – 400607.
+91 9967 082 877
022 3553 1188

VEER DHAWAL,
1st FLOOR, A 104,
L.T RD, NEAR BABHAI NAKA,
BORIVALI WEST,
MUMBAI – 400091.
+91 9136982877
022 3574 1629